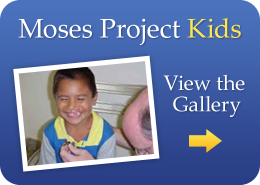 The Kids - Katiane
In August of 1999, a church building team was passing out clothing to the poor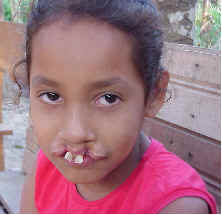 community in Placido de Castro when one of the team noticed a little girl who was standing in line. Nine year old Katiane had been born with a cleft palate and bilateral cleft lip. We determined at that time that we wanted to help Katiane and talked to her mother about preparing to come to America. John Mark asked the team members who were from First Baptist Church, Jacksonville Beach, Florida, if they wanted to be involved with the health care needs of Katiane, and the Minister of Music from that church, Hoby Unkelbach, said of course they would. John Mark began the process of obtaining the paperwork for Katiane and her mother, Georgete, to come to the States, and Hoby began searching for a surgeon and a hospital to take care of her needs.

Dr. Dean Glassman, plastic surgeon, agreed to do the surgery at Wolfson Children's Hospital, which graciously donated their services as well. Katiane and her mother arrived in the spring of 2000 in Jacksonville, Florida. During their first week in Florida after arriving from Brazil, Katiane and her mom were able to spend the day at Disney World. The tickets were bought by the choir of First Baptist Church, Jacksonville Beach, and it was the highlight of her trip. Another thrill for them was seeing the ocean for the first time.
While waiting for the surgery, Katiane and Georgete were invited to spend a couple of weeks in Knoxville, Tennessee, with Alan and Yaci Giles – friends from the team who went to Placido de Castro the year before. While in Knoxville, Alan Giles was practicing witnessing in Portuguese with Katiane; he went through it several times and asked her if she would like to pray to receive Christ, and she did. Before she left Knoxville, she was baptized at Sevier Heights Baptist Church.
The majority of the time they were in Jacksonville, Florida, Katiane and her mother were guests of Hoby and Jan Unkelbach who graciously opened up their home. Around the time of the first surgery, they were able to stay at the Ronald McDonald House for a few days to recover from surgery on their own schedule.
Katiane's treatment was separated into two different surgeries; the first repaired the lip and the soft tissue of the palate, and then she returned to Brazil to heal completely. The second surgery was several months later, on January 3, 2001, and repaired the hard palate and did a little touch-up work on her lip. Dr. Glassman did a wonderful job and Wolfson Children's Hospital was extremely helpful. We are grateful to Karen Wolfson, Dr. Armstrong, and Larry Freeman for all their help at the hospital and to the church family and Brazilian friends who helped in many ways, especially with translating and making them feel at home.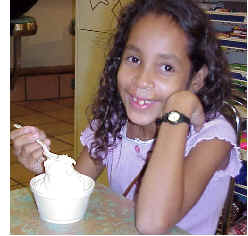 On January 17, 2001, Katiane and her mother returned to Brazil to complete the healing process at home. What a difference than when we first saw her in August of 1999! We thank the Lord that we could be a part of helping Katiane, and we thank the Lord for all who had a part in changing her life forever.