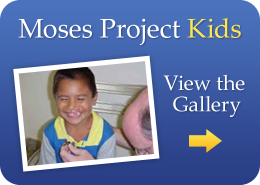 The Kids - Marcos
In April of 1997, while building a church, John Mark was with a team on the outskirts of Manaus. One of the Brazilian men helping with the construction had heard about Moses receiving medical help in America. He expressed concern for his own grandson, who had a medical need. It turned out that Marcos, the oldest of six children, was born with a cleft lip and cleft palate. His parents were able to get the lip repaired there in Manaus when he was around 4 years old,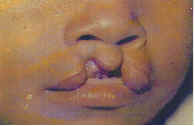 but his palate (the roof of his mouth) basically was not there and he was already 16 years old.
Obviously speech was very difficult and some-thing as simple as drinking water caused him to feel as though he was choking. Marcos did not maintain much eye contact when we visited with him, and he had already quit school years before. We made the decision to do everything we could to help Marcos.
Once again, Dr. Mike Good made all the hospital and surgical arrangements in Springfield, and Dr. Darrell Domann volunteered his services as a plastic surgeon to repair Marcos' palate. John Mark was able to obtain all the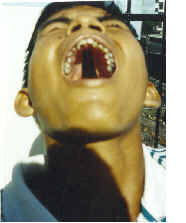 documentation, passports, etc., in Manaus, and accompanied Marcos and his father, João, to Springfield, Missouri, in the spring of 1998. From Manaus to Miami, tickets were purchased to fly the international portion of the trip, but from Miami to Springfield, Missouri, and back, the tickets were donated for Marcos and his father by American Airlines through their "Miles For Kids in Need" program.
One of the amazing things about the trip was that when landing in Springfield, the ground was covered with snow – quite a sight to see for two people who had never left the hot and steamy jungles of the Amazon. Fortunately, friends from First Baptist Church, Springfield, had coats waiting for us at the airport. That night, they took us snow sledding on a hill in the suburbs of Springfield, Missouri. What a treat!
Dr. Domann did the surgery, and Marcos had a normal recovery except for one small opening that developed in the palate, which was subsequently repaired by Dr. Domann the following year. Marcos, his dad, and John Mark were housed at the Ronald McDonald House of the Ozarks at Springfield. This was a great blessing and offered them a place to recuperate after surgery. During their stay, Pinegar Motors of Republic, Missouri, donated the use of a vehicle to travel to and from the hospital and around Springfield. Many families and individuals from across the country supported this project financially and with prayer.
In the Spring of 1999, "The Moses Project" was able to take Marcos back to Springfield, where Dr. Domann closed the hole in his palate. Several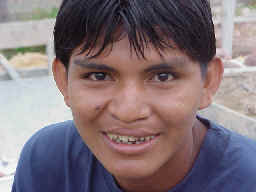 friendships were renewed and Marcos was anxious to go to soccer games, shopping, and out to eat with friends. He was even able to stay in the home of Steve and Nancy Garrison for a short time before returning to Brazil.
Marcos is still living with his family and working with his father as a brick layer. His memories of the time in Springfield are warm, and his outlook for the future is bright.